Contributed to
Memorial Park Fund
thru this website
Curt Webber Cincinnati OH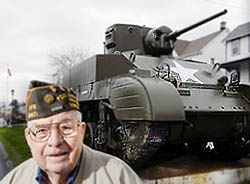 See earlier article
June 2007
Old tank gets a new look
Originally published April 09, 2008
Photo by Bill Green
Brunswick historian Wendell Stewart stands with the World War II Stuart tank that has remained a fixture in the town for more than 60 years.
The Stuart tank
The Stuart tank was a light tank built by Cadillac during World War II. It weighs 16.5 tons, and has a 16 cylinder, V-8, four cycle engine. Its top speed is 36 miles per hour, and it has a range of 100 miles. Its main weapons are a 37 mm cannon and a .30-caliber machine gun. More than 25,000 Stuart tanks were produced during the war.
By Karen Gardner
News-Post Staff
BRUNSWICK -- A World War II tank has remained a fixture in Brunswick for more than 60 years.
The tank is on A Street, in a small strip known as Memorial Park. It has a new coat of paint and new caretakers.
Confusion over who owned the tank and who would maintain it, however, prevented anyone from refurbishing it for years, even as the paint peeled and the tank rusted.
The Stuart tank came to Brunswick in 1947. The local American Legion post maintained it for years, but gradually, the tank and the park surrounding it fell into disrepair. A large metal book containing the names of those who served in World Wars I and II is now rusted shut. Lights that once illuminated the tank and the book have long since been moved.
The Legion chapter couldn't insure the tank because it's not on the post's property, said Ellwood Wineholt, post commander. The city mows the grass, but monument upkeep has been left to local civic organizations.
"The Legion more or less closed its eyes and ears," Wineholt said. "I never heard anything about repairing it, painting it."
The local chapter of the Veterans of Foreign Wars, meanwhile, has decided to fix up the park in time for Brunswick's Veterans Day parade in November. The chapter plans to build a monument there to all local war veterans if it can raise the money. It also hopes to refurbish the metal book.
The Veterans Day parade once included Memorial Park. A grandstand was set up behind the tank, and parade festivities took place there. But floats and other parade vehicles often had trouble making it up the steep hill from Potomac Street, Wineholt said.
Over the years, A Street was widened, and the size of Memorial Park shrank considerably, said local historian Wendell Stewart. The tank, once Brunswick's pride and joy, became a piece of forgotten history, drawing a small audience of faithful each Memorial Day and Veterans Day.
Machine guns that once flanked it are now in front of the American Legion. Also gone is a small garden once planted in honor of Brunswick's veterans.
Now the tank has a fresh coat of paint. Earskon Myers, a local military collector, his wife Edna, sons Trey and Blake, and Blake's girlfriend Tammy took up brushes and repainted the tank in late January.
Myers researched the tank's original color, a late World War II military green, and ordered the paint from Gillespie Coatings, a military specialty supplier. He used an oil-based enamel and said the paint should last 10-15 years, but the tank will be taken care of well beyond that.
"My younger son will be able to take care of it for the next 50 years," he said.
Memorial Park has been part of Brunswick since the end of World War I, Stewart said.
"There used to be a cannon there," he said. "It was taken away and used for scrap metal."
It was a 155 mm Howitzer that Stewart remembers playing on as a child. For a few years during and after World War II, the concrete pad was empty, but in 1947, the disarmed tank came to rest on the spot.
"We had rumors one of the fellows was in a tank outfit," Stewart said.
Donald Strailman, a Brunswick native, may or may not have actually served in a tank outfit. But he was instrumental in bringing the tank, which had never seen battle, to Brunswick.
"There were a lot of excess tanks," Stewart said. "They had fields and fields after the war."
Stewart worked for the Army as an ammunition inspector. The disarmed tank, like any Army war weapon, still belongs to the Army.
The Army likes to know that its old tanks and weapons are being kept up, said spokesman Eric Emerton, public affairs officer for the Army's Tank Army Command, based in Warren, Mich.
"They make nice monuments," he said. "Many VFW and American Legion organizations have an inherent interest in these."
Other known Contributors
None at present

Known Veterans
If you know of veterans not listed please send Curtwebber@aol.com this information