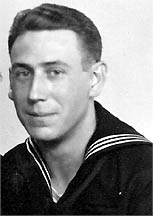 James McLane Youtz Class 1934

Branch of service U S Navy
Rank
Entered service
Discharged
Birth 12/11/1916
Died 11/6/2003
Buried St Marks Cemetery, Petersville, MD
As originally published on Thursday, November 6, 2003.
Mr. James McLane "Punk" Youtz, 86, of Brownsville Heights, formerly of Brunswick, died Wednesday, Nov. 5, at Frederick Memorial Hospital.
He was the husband of the late Marjorie Virts Youtz.
Born Dec. 11, 1916, in Martinsburg, W.Va., he was a son of the late Robert McLane and Mary Elizabeth Ways Youtz.
He was a 1934 graduate of Brunswick High School.
He was a veteran of World War II serving in the U.S. Navy.
He retired as a clerk working a the car department of B&O Railroad at Brunswick after 37 years of service.
He was a member of Bethany Lutheran Church at Brunswick and served on the church council for 30 years. He was also a member of Steadman-Kennan Post 96 of the American Legion, Veterans of Foreign Wars Post 10421 and Loyal Order of Moose Lodge 1582, all of Brunswick, BPO Elks Lodge 684 of Frederick, and Brotherhood of Railway Clerks.
Surviving are one daughter, Vicki Cooper and husband Jackie of Brownsville Heights; and one grandson, Darren Cooper of Brownsville Heights.
He was preceded in death by two brothers, Frederick Samuel and Thomas Robert Youtz; one aunt, Henrietta Westall; and one uncle, James A. Westall.
The family will receive friends from 2 to 4 and 7 to 9 p.m. Friday, Nov. 7, at John T. Williams Funeral Home, 100 Petersville Road, Brunswick. Funeral services will be held at 11 a.m. Saturday, Nov. 8, at Bethany Lutheran Church, Brunswick, with the Rev. Frank Fortkamp officiating.