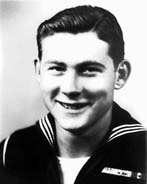 William Richard (Mike) Webber Class 1943
Branch of service U. S. Navy, USS Hornet Aircraft Carrier
Rank
Entered service
Discharged
Born 6/10/1925
Died 4/23/2007
Buried Mt Zion Lutheran cemetery, Locust Grove, (Near Rohrersville, MD)

As originally published on Wednesday, April 25, 2007
.

William Richard "Mike" Webber, 81, of Rohrersville, died Monday, April 23, 2007, at Fahrney-Keedy Home near Boonsboro
Born June 10, 1925, in Knoxville, Mike was the son of the late Ralph Edgar and Edna Catherine Merriman Webber.
He graduated from Brunswick High School in 1943.
Mike retired from the National Park Service at Harpers Ferry National Park in 1980.
He was a veteran of World War II, serving in the U. S. Navy on the USS Hornet aircraft carrier.
Mike was a member of Mt. Zion Evangelical Lutheran Church near Rohrersville.
He was a member of the Brunswick Masonic Lodge 191 and the Brunswick Fraternal Order of Eagles 1136.
Mike is survived by his wife of 57 years, Margaret Jeanette Reynolds Webber; three daughters, Gail Stern and husband Ira of Montgomery Village, Holly Benson and husband Gene of Smithsburg, and Wendee McFalls and husband Dave of Waynesboro, Pa.; six grandchildren, Reanna Nicole Tarleton, Stephen Thomas McFalls, Nicholas Aaron Benson, McKenzie Nichole Benson, Jared Andrew Stern and Nathan Daniel Stern; a niece/"daughter" Debbra Huffer and husband Warren of Jefferson, and a nephew, Wayne Hawes and wife Donna of Brunswick.
Funeral services will be held 11 a.m. Thursday at Bast Funeral Home in Boonsboro. The Rev. Raymond Scheck will officiate. Burial will be in Mt. Zion Lutheran Cemetery at Locust Grove.
The family will receive friends on Wednesday from 2 to 4 p.m. and 6 to 8 p.m. at the funeral home, where Masonic services will be held at 6:15 p.m.