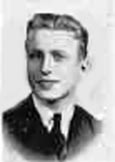 Frank Cleveland Badger Class 1940
Branch of service U S Navy
Rank
Entered service
Discharged
Born 1920
Died 12/38/2006
Buried Prospect Hill Cemetery, York, PA

As originally published on Saturday, December 30, 2006.
Mr. Frank Cleveland Badger, 86, of Linwood, died Thursday, December 28, 2006, at Carroll Hospital Center after an illness of several weeks. Born October 6, 1920 in Washington County, he was the son of the late Frank C. and Isabelle McGolrick Badger. He was the husband of Joy Ryan Hay Badger, his wife of 30 years. Mr. Badger was a graduate of Brunswick High School.
He worked for the B & O Railroad, then served in the U.S. Navy during World War II. After the war he graduated from the Maryland State Police Academy and was employed with the Maryland State Police for more than 33 years, retiring in 1971 as a 1st Sgt. He then worked as a bailiff for the Carroll County court system, retiring when he was 80 years old.
He was a member of Ascension Episcopal Church, Westminster, the Maryland State Police Alumni and Prudence Lodge, A.F. & A. Masons of Mt. Airy. He enjoyed fishing, hunting and was an avid sports fan.
In addition to his wife he is survived by three daughters, Susan Hash and husband Donald Sr. of Mt. Airy; Melody Dix and husband Richard of Spring Hill, Fla.; Christina Brittain and husband Bill of Myersville; five grandchildren, Angela Lief, Donald Hash Jr., Daniel Winters, Rebecca and Patrick Turner; three great grandsons and a sister, Pauline Gambino and husband Richard of Somerset, Pa. He was predeceased by a sister, Evelyn Edwards.
A funeral service will be 11:00 a.m. Tuesday, January 2, at Ascension Episcopal Church, 23 N. Court St., Westminster, with Rev. Samuel W. Edleman, assistant priest, officiating. Interment will be in Prospect Hill Cemetery, York, Pa.