Region 8 Overview: Ohio's deepest Division II region? We think so
By Dave Biddle, Bucknuts Staff Writer
dave.biddle@bucknuts.com
Posted Aug 12, 2010
It could be argued that Trotwood-Madison has one of the deepest and most explosive offensive line-ups in the state. Whether that translates into a regional title is yet to be determined. Winton Woods - the defending D-II state champ - and Turpin will also have a huge say in who wins the hardware.

REGION 8 (DIVISION II)
COMPLETE SCHEDULES

Cincinnati Winton Woods (13-2)
* Players To Watch –
QB Thomas Owens (5-10, 205, Sr.),
MLB Antonio Poole (6-1, 207, Sr.),
CB Corey Webber (6-2, 182, Sr.) (ranked the No. 12 CB prospect in the state),
DB Zach Bomar (6-0, 170, Sr.),

DB Chuck Wynn (5-11, 195, Sr.),
RB Aaron Kemper (5-8, 186, Jr.),
DE Walter Richardson (6-2, 198, Sr.).

* Outlook – Winton Woods stormed its way to the 2009 Division II state championship and the only thing that would feel better to the Warriors would be a repeat.
However, they must replace several talented starters – such as QB Dominique Brown and RB Jeremiah Goins – but they return with plenty of weapons in their arsenal.
Owens is ranked as one of the state's top 25 senior wide receiver prospects by Ohio High/Scouting Ohio. He played running back the last couple years, but will move to quarterback this season.
"Yeah, we think Thomas will end up being our quarterback," former Winton Woods head coach Troy Everhart said. "We had a really good one the last three years, but Thomas filled in for us some and did a good job. He's extremely explosive and the consensus on the staff is that we need to get the ball in his hands a lot and the best way to do that is to play him at QB."
Owens is getting some looks from MAC schools, but by far the most highly-recruited player on the team is Poole. He already has over 20 scholarship offers and is ranked as the No. 2 senior middle linebacker in the state by Ohio High/Scouting Ohio. Only Trey DePriest of Springfield (who is one of the top recruits in the nation and will likely pick between Alabama and Ohio State) is ranked higher.
"Antonio is the most high-profile defensive kid we've had in a while," Everhart said.
Other players to keep a close eye on include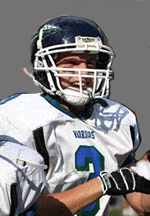 Cory Webber (ranked the No. 12 CB prospect in the state),
Bomar (ranked as the No. 15 S prospect in the state) and
Kemper (first-year starter – he will replace Goins in the backfield).